Medical Benefit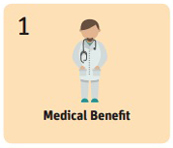 Employees suffering from employment injuries or occupational diseases may receive free medical treatment at SOCSO's panel clinic or Government clinic / hospital until they are fully recovered.

For serious injuries, medical care may be obtained from the Government hospital and the employee is eligible for second class ward treatment. Specialist treatment will be provided, if required.


Reimbursement
Employers or employees can claim for reimbursement of expenses incurred in respect of medical treatment at SOCSO's non-panel clinic. Application can be made to SOCSO and the reimbursement is subject to such condition as determined by the Organisation or according to Fees Act 1951.